Online Event: "Sake Future Summit 2020"
ポッドキャスト
H. Oikawa
2020年11月20日
Online Event: "Sake Future Summit 2020"
November 21-22 (Sat & Sun) JST (+9:00 hours)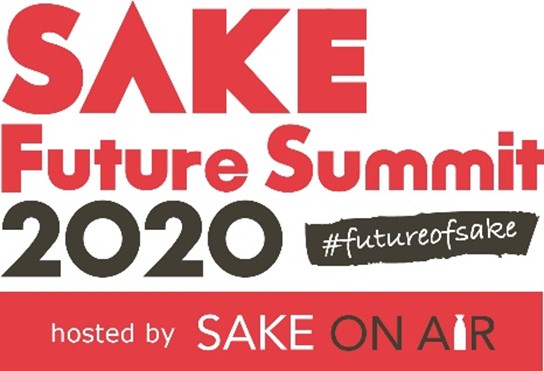 Sake Future Summit 2020, the first-ever attempt to bring the global dialogue about sake and shochu together through YouTube Live, will take place from Saturday, November 21 at 11:00 am until Sunday, November 22 at 17:50 JST.
This online event is hosted by Sake On Air (SOA), a podcast dedicated to sake and shochu. The podcast was started in 2018 by Potts. K Productions and Export Japan Inc., with support from the Japan Sake and Shochu Makers Association, and it provides information and insights on these iconic Japanese drinks to its avid listeners.
The sessions are all in English*, access is free, and you can join and leave at any time. For further information and the links to YouTube Live, please visit the Sake On Air site: https://www.sakeonair.com/summit/
*Some sessions are in Japanese, but English subtitles or voice-over will be provided.
Check out the different sessions and keep your schedule open for the ones you are interested in!
SOA Official Website: www.sakeonair.com/
Social Media Handles
Facebook
Twitter
Instagram
Presenters (in no particular order, subject to change)
Maya Aley – Shochu Expert
Wolfgang Angyal – President & CEO of Riedel Japan Co. Ltd.
Brian Ashcraft – Author and Journalist
Joshin Atone – Brand Manager for SG Shochu
François Chartier (Aroma Specialist; Master Blender for Tanaka 1789 X Chartier sake project, Miyagi)
Ryan Chetiyawardana – Owner/Founder Mr. Lyan
Andrew Childs – Founder and Managing Director of Behemoth Brewing Company
Neil Simon Claudio – Sommelier
Marcus Consolini – CEO at Daimon Shuzo
Sayuri Daimon – Journalist; Former Executive Operating Officer and Managing Editor of The Japan Times
Yasutaka Daimon – 6th Generation of Daimon Shuzo
Nobuo Fukuda – Chef at Teeter House
Shingo Gokan – Founder of SG Group
Christopher Gomez – Beverage Director at Shibumi
Yuichi Hashiba – President of Izumibashi Shuzo
Koichi Higuchi – Director of Higuchi Matsunosuke Shoten Co., Ltd.
Oliver Hilton-Johnson – Director of Tengu Sake
Chikako Ichihara – CEO Azix; Japan Sake and Shochu Makers Association US Liaison officer
Tatsuya Ishikawa – Head of Hiroshima Toji Guild; Vice President of Japan National Toji Guild; Former Toji at Taketsuru Shuzo
Tomohiro Iwaizako – Cooper at Satsuma Shuzo Co., Ltd.
Atsushi Kabasawa – President of FARM8
Yoshitsugu Komasa – President of Komasa Jyozo
Miho Komatsu – Sake Specialist for Marussia Beverage; Marketing and International Sales for Akashi-tai Sake Brewery
Akiko Konishi – General Manager of International Department at Konishi Brewing Co., Ltd.
Shinsaku Kuroki – President at Kuroki Honten & Osuzuyama Distillery
Don Lee – Former partner of Existing Conditions
Stephen Lyman – Shochu Professional and Author
Barry McCaughley – Restaurateur; F&B Development Consultant
Sachiko Miyagi – Sake Expert at Tippsy Inc.
Katsuhiko Miyasaka – President's Office at Miyasaka Brewing Company
Etsuko Nakamura – Founder of Sake Tours
Yasuhiko Niida – President & Toji of Niida Honke
Rumiko Obata – 5th Generation at Obata Sake Brewery
Takuya Ogura – Owner of Hoteru and Kaikan
Taiji Okura – General Manager & Director of Sales at Gekkeikan Sake Co., Ltd.
Tadayoshi Onishi – President & Toji at Kiyasho Shuzo
Tsutomu Oshiro – CEO of Chuko Awamori Distillery
Michael Ou – Chef & Owner of Hanabi Izakaya in Taipei; President of Ho-Wei Sake Imports in Taiwan; President of Shanghai OUSAKE Consulting
Sean Ou – DipWSET; Co-founder of Beverage Clique
Marco Pelletier – Vigneron at Domaine de Galouchey; Proprietor of Vantre, Paris
Rubén Pol Ramon – Head Sommelier at Restaurant Disfrutar (Barcelona)
Pablo Alomar Salvioni – President of Salvioni & Alomar
David Schlosser – Owner/Chef at Shibumi (DTLA)
Wayne Manu Shennen – Owner of Rangitoto Tokyo Craft Sake and New Zealand Wine Bar
Kenichi Shimazaki – CEO at Shimazaki Sake Brewery
Masataka Shirakashi – President of Kenbishi Sake Brewery
Hayato Shoji – President & Toji at Kidoizumi Sake Brewery
Mutsuko Soma – Chef/Owner of Kamonegi and Hannyatou
Daisuke Suzuki – President & Toji at Suzuki Shuzoten
Sho Shuzuki – Owner & Chef of SUZU GROUP
Toshinari Takahashi – Production Manager at Kikumasamune Sake Brewing Co., Ltd.; Doctor of Bioscience
Kenichi Takaya – Owner/Chef at Nihonshu-ya
Masaru Terada – 24th Generation President & Toji at Terada Honke
Kanako Teshigawara – Founder & Owner of CREMA; Independent Food Planner & French Interpreter
Xavier Thuizat – President of Kura Master; Chef Sommelier at Hotel de Crillon
Shiro Toyonaga – President of Toyonaga Shuzo
Junko Tsutsumi – President at Sengetsu Shuzo
Nobuhiro Ueno – Owner at Shu Saron Aged Sake Bar; Founder of Toki Sake Association
Jeremy Umansky – Co-author of Koji Alchemy; Chef/owner of Larder Delicatessen & Bakery
Hitoshi Utsunomiya – Director at Japan Sake & Shochu Makers Association
Tekkan Wakamatsu – Master Brewer-Distiller at Yamato Zakura Shuzo
Yoshiki Watanabe – President of Watanabe Shuzo
Eugene Wong – Director of Mr. Otaru
Takenosuke Yasufuku – President of Kobe Shu-Shin-Kan Breweries Ltd.
Masayuki Yokomoto – Director of Sales & Marketing at Yoshinogawa Co., Ltd
Yuzo Yokoyama – President & Toji at Omoya Shuzo